Gravity-defying Road Trip
Madison Adams, Staff Writer
May 2, 2019
Hang on for a minute...we're trying to find some more stories you might like.
Have you ever heard of a $2,000 dollar fine or ticket? Take a quick stop on Gravity Road with your car and you'll receive one and get a few points on your license. Gravity Road, also known as Gravity Hill or a magnetic hill, is located in Franklin Lakes, New Jersey. The road is on the Ewing exit off of Route 208 in Bergen County.
A gravity hill is a place where the layout of the surrounding land produces an optical illusion, making a slight downhill slope appear to be an uphill slope. There are two legends. One states that a little girl was killed on the road when she ran out in front of another car after her ball. The other legend has it that a woman was killed at the intersection at the bottom of a ramp.
When you stop at the stop sign at the bottom of the exit, if your car is in neutral, your car will be pulled back up the hill. Local New Jersey residents claim that the force pulling cars uphill is the ghost of the woman or young girl who warns people of danger. While the theory is widely believed, another theory suggests that the road is an optical illusion. The road appears to be a downward slope but maybe it isn't. The stop sign appears to be downward but may also be slightly uphill.
Don't stop on Gravity Hill to test out the theory. Franklin Lakes police patrol this area consistently and will catch you. Stopping at the bottom of this hill is very dangerous since the road is a major exit for an interstate. It is likely that another car will be speeding off the highway and will rear end your car.
There are many other Gravity Hills located across the World. Some located in the United States include: Rohnert Park, California; Harrisburg, Pennsylvania; and Shullsburg, Wisconsin. Gravity Hills across the world include: Orroroo, South Australia; Dacre, Ontario.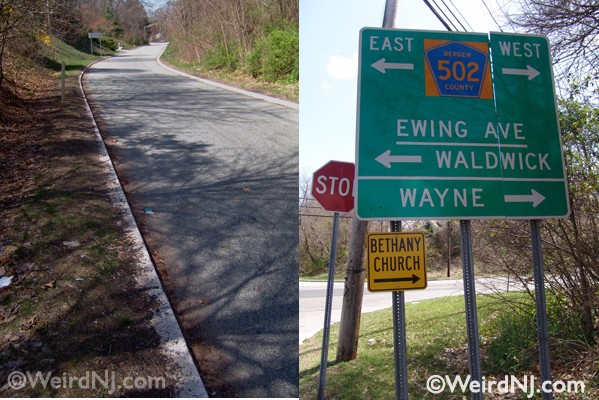 Picture Credit goes to WeirdNJ.com
About the Writer
Madison Adams, Staff Reporter
Madison Adams has been writing for the Columns since Spring 2019. Madison is currently a Freshman Communications major. She plans on switching to Broadcast...