Creative Sustainability Council Project aims to Repurpose Plastic Bags for the Homeless
On September 20, 2019 The Creative Sustainability Council launched another near-equinox, pre-climate-week event for West Virginia's Marion County community. The objective of this event was to re-purpose plastic bags as sleeping mats for the homeless.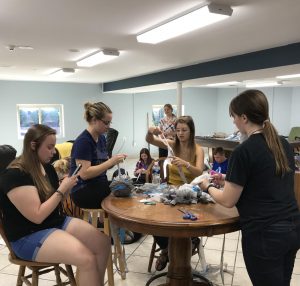 After attending the event on Friday evening in the Newman Center, I gained valuable insight into the process behind reusing plastic bags to foster ecological balance. Co-organizer Shannon Knowlton felt that reusing frequently produced plastics is a "Great way to reduce waste and give back to the community." Ashley Ruza agreed by stating, "It feels nice to be able to use our grocery bags to aid a good cause."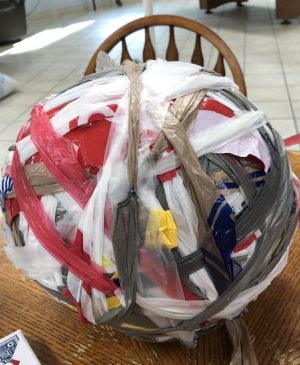 The teamwork associated with applying these ideas requires careful planning and effective communication to demonstrate knowledge of the process to other volunteers. For each task, the volunteers gave verbal as well as hands-on demonstrations. In attendance was Jan Kriger, Interim Department Chair of Health and Human Performance and Assistance Professor of Outdoor Leadership and Recreation. Kriger stated, "I was really pleased to see the number of students that came together for this project. It takes a village, but many of the jobs don't require a hard-to-learn skill."
Given that the plastic sleeping mats are crocheted, non-crocheting volunteers worked together to make plastic balls that functioned much like and resembled a yarn ball. Through hands-on experience, volunteers learned to fold plastic bags horizontally until they formed a thin column. After folding, the handles and bottom seal of each bag were recycled and the remaining column was cut into strips that resulted in loops of plastic. Each loop was fastened to another and wrapped into a plastic ball for later use in crocheting.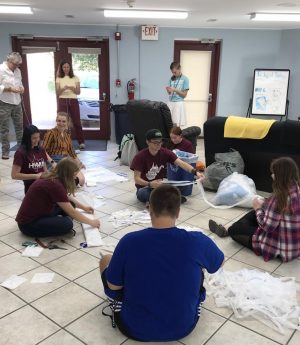 After a significant portion of plastic had been crocheted, the results were outstanding! Dr. Erica Harvey shared her thoughts about the event by stating, "I was really surprised by how handsome the mats looked and I loved getting to spend time with positive people in a chaotic, but fun and productive atmosphere."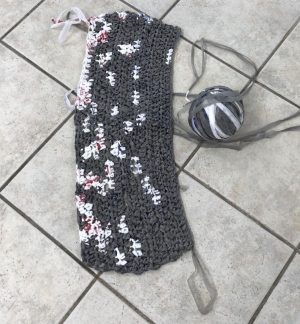 The Creative Sustainability Council meets at 3 p.m. in Hunt Haught Hall, room 312 on the last Friday of every month. All are welcome to attend meetings, contribute project ideas or volunteer at an event hosted by the Creative Sustainability Council.
For more information about meetings and events, please contact Dr. Erica Harvey at [email protected]
Leave a Comment
About the Contributor
Anna Cronin, Executive Editor
As a sophomore at Fairmont State University, Anna Cronin is the executive editor of The Columns and a psychology major.