Wind Ensemble Blows Audience Away
On the evening of March 6th, the community was invited to the Wallman Hall Auditorium to enjoy a performance by the Fairmont State University Wind Ensemble. The performance was directed by Greg Mulzet and featured work by many American composers.
In presenting the "Composers of America", the Wind Ensemble provided an excellent execution of musical pieces by David Maslanka, Alan Hovhannes, John Mackey, Aaron Copland, Alfred Reed and John Philip Sousa. With these artists as inspiration and guidance, the members of the Wind Ensemble played in harmony.
The performance of Maslanka's "Mother Earth", Hovhannes's "Tapor No. 1", Mackey's "Foundry", Copland's "Down a Country Lane", Reed's "El Camino Real" and Sousa's "The Thunder" ranged from calming vibrations dancing through the air to intense harmonious expressions that were sure to set pulses racing. Preston Testa, the Wind Ensemble's tenor saxophone player described "Mother Earth" as being his favorite piece stating, "It was just really intense and also low in my saxophone's range, which are the more fun notes to play". One of the flute players Kristina Wade stated, "I really liked "Mother Earth". It was the most challenging of all our pieces."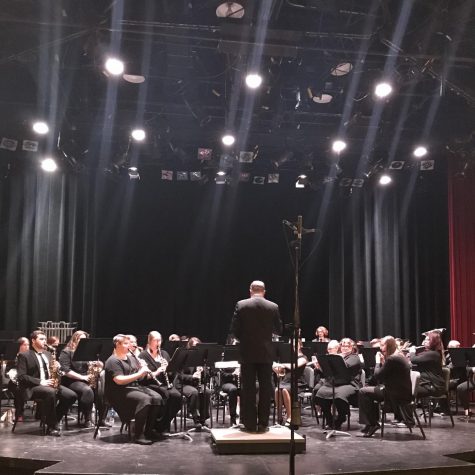 After receiving positive feedback from the players, director Greg Mulzet shared his praise of the performance stating, "They worked very hard" as well as "they had great positive attitudes and rehearsal is fun every day.". That said, great attitudes can lead to great performances, such as the Wind Ensemble's "Composers of America". To attend their next performance in the Wallman Hall Auditorium, be sure to mark your calendar for May 1st at 7:30pm.