Hello readers! Welcome to Lovebird Book Reviews where I, Avary King, review/recommend the latest and greatest of everyone's favorite genre: romance. This is a spoiler FREE zone!
Welcome back readers, I don't know about you, but it seems like so many new things are being shoved in our faces it can be hard to keep up. Everywhere you turn, it's new release after new release. Taylor Swift released 1989 Taylor's Version (I can't get into how amazing that album is because that would take up the whole article). The Ballad of Songbirds and Snakes film that threatens to destroy my sanity is released November 17th. Too many amazing book releases are tempting me into more credit card debt. If my SJM stans are reading, there are only 90 days left till House of Flame and Shadow releases. It feels like I'm running in circles trying to keep up with all the new content being released. That's on top of all of the circles I am running to keep up with school, work, and home. So, to be honest with you guys I am out of breath. And I know the perfect thing to breathe joy into my hectic life. A spectacular book. The kind of book that makes you feel all warm and fuzzy. The kind of book that causes you to kick your feet and squeal while reading. The weeks left in the semester are disappearing at an alarming yet comforting level. It is comforting to know that soon enough we will be free. At the time I am writing this article, we have 4 weeks left of the Fall 2023 semester. However, the price of that sweet freedom is final exams, papers, and projects. So for this week's edition, we are gonna keep things short and simple. This edition of LoveBird reviews focuses on some recently read 5-star rated books. These books are a perfect 10/10. These books are sure to help get you through the end of the semester. If no one has told you today, you are awesome and you can do it!
Friend me on GoodReads! https://www.goodreads.com/user/show/52528664-avary-king
DISCLAIMER: Read at your own risk! Some of the books that I recommend mention or talk about sensitive subjects that could be considered triggering for some individuals.
Wildfire
Author: Hannah Grace
Page Number: 400
Release Date: October 3nd 2023
Genre: Romance
Rating: 5/5 stars
Read the description for Wildfire here:
https://www.goodreads.com/book/show/101145836-wildfire?from_search=true&from_srp=true&qid=JJZBTo6Inx&rank=1#CommunityReviews
Wow. Wow. Wow. This book was so good. I know there were some mixed reviews of Icebreaker, the first book in the series, but this one blew my expectations away. First of all, the premise is two camp counselors falling in love. Are you kidding me? How was I supposed to go into this book and not like it? Russ and Aurora gave me life. They were so well written as a couple I was in love with them from the first page. I loved that the book had a lot of depth underneath all that spice. I feel like a lot of authors go wrong by trying to fit in as many spicy scenes as possible (which sometimes I support) but most of the time I start thinking, these are the couples that get put on the "didn't last past the epilogue" list. I think Hannah Grace really outdid herself with this one. I am definitely still waiting for Henry's book, which I'm pretty sure will cause me to spiral into an obsessive episode. I feel like I am just rambling because I wanna scream about parts I loved, but I can't give spoilers. So do us all a favor and just go read the book.
(P.S: Hannah Grace definitely puts something magical in those covers because I just can't stop looking at them, they are so beautiful)
The Hurricane Wars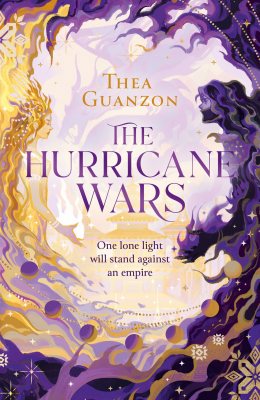 Author: Thea Guanzon
Page Number: 480
Genre: Fantasy, Romance
Release Date: October 3rd 2023
Rating: 5/5 Stars
Read the description for The Hurricane Wars:
https://www.goodreads.com/book/show/75668288-the-hurricane-wars?ref=nav_sb_ss_2_10
Before you read this review, go read the description of the book. Nothing I am saying will make sense if you don't go read the description. Now that you are back from reading the description I can tell you that this one took me by surprise. I forget how I first discovered this book, but I do remember being lured in by the cover and never turning back. This book was beautiful. This book was lyrical. This book was heart-wrenching. War can be a very hard event/theme to write in books. It is such a complex and dynamic theme that it often leaves you wanting more or less. But this book was everything I have ever wanted and more. Definitely an S-tier book for me. This book reminded me of the show Avatar the Last Airbender (if you've never seen that, cancel whatever you are doing and go watch it.) The relationship between Talasyn and Alaric was crafted perfectly. I must warn you, this book is not spicy AT ALL, in my opinion. However, I do feel the spice will pick up in the next book in the series. Guanzon has such an interesting writing style, she is so descriptive and deliberate with her words. I felt like I could reach out and touch the outfits the characters were wearing. I also discovered that apparently, this book started out as a Kylo-Ren fanfiction. Um hello? That makes me love it even more. There is just something about the slow burn enemies to lovers, arranged marriage trope in fantasy, and women who can kill that makes me lose all sense of reason. Truly makes me weak in the knees. Read this book! That's an order, not a request.
Fake Empire
Author: C.W. Farnsworth
Page Number: 394
Genre: Adult fiction, Romance
Release Date: June 23rd, 2022
Rating: 5/5 Stars
Read the description for Fake Empire here:
https://www.goodreads.com/book/show/141322179-fake-empire
Have you ever been in the mood to read a certain trope or genre of book? If you are like me then you definitely have on multiple occasions. Before reading this book I was rewatching Gossip Girl, and as a Chuck and Blair fangirl, I was desperately craving something that would give me the same rush of dopamine. And I don't know if Jeff Bezos has finally achieved the ability of mind reading, but the next time I went on Kindle Unlimited this book was shining up at me from the "books you might like" section. It was exactly what I had been looking for and I was on cloud nine. I saw some negative reviews saying it was too "predictable" and "had no plot". Truthfully the book doesn't have a huge complex plot, but I didn't love the book for its plot line. I love this book because it was FUN. This book was a journey about trust-building between two characters. This book was a journey from an arranged marriage/marriage of convenience to a real couple. We also know I go feral for the "he falls first" trope. Crew was down bad for Scarlett. Speaking of Scarlett, let's talk about what a great female MC she was. We don't get a lot of billionaire heroines in the romance genre, so I found that very refreshing. I thought the author did a great job at capturing what makes us love couples like Chuck and Blair or Fallon and Liam. The 5-star rating in this book can be found in the small moments. The glances, the passing touches, the sudden jealousy. It's called "You Are in Love" by Taylor Swift. No further explanation is required, add the book to your TBR.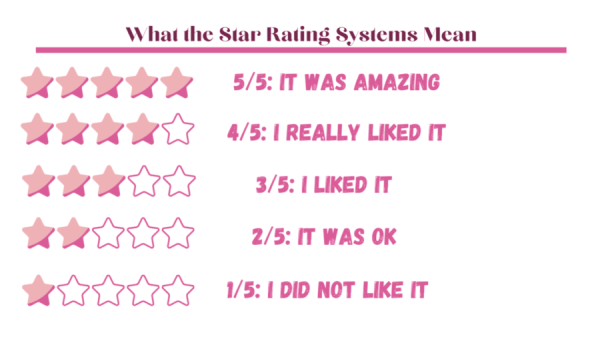 This is the rating system I try to follow for consistency. In all honesty, I will only recommend books that I like because I consider all readers my friends, so most of the books I recommend will be 3-5 stars because that means I truly enjoyed them and would read again.