Hello readers! Welcome to Lovebird Book Reviews where I, Avary King, review/recommend the latest and greatest of everyone's favorite genre: romance. This is a spoiler FREE zone!
Welcome back, Lovebirds! If you are new here, my name is Avary and I LOVE to read! But more specifically, I am addicted to the sweet, delicious, warm, and fuzzy feeling that only romance books can provide. And to feed my addiction I read A LOT of romance books. Because of this, I am able to find what books I would recommend to friends and which books I would serve a restraining order. Last semester I decided that it would be very cruel not to share these amazing books with the Falcon family and thus, Lovebird Book Recommendations was born. If this is your first review/recommendation of mine, you may want to check out a few of my previous reviews where I explain my review system and you can find other great book recommendations!
Well friends, sadly we find ourselves yet again, under the gloomy shackles of the Fall semester. Homework, syllabus after syllabus, walking up the stairs of the parking garage, need I say anymore? *sigh* However do not fear my amazing readers, I have just the antidote for those criminal parking garage stairs: 44 milligrams of steamy romance novels. Although, you should know, my answer for everything is steamy romance novels. I will continue to do that joke till this column is ripped out of my cold dead hands. My favorite author, Sarah J. Maas, has a quote in one of my favorite books, "I can survive well enough on my own, if given the proper reading material". So, kindly allow me to provide you with some proper reading material in order to survive this semester. My last article of the spring semester was a list of books that were upcoming releases for the summer of 2023. For this first review of Fall 2023, it is time to revisit those releases, give you my thoughts, and tell you if they are worth reading!
If you use Goodreads to track your books and read reviews, let's be friends! If you don't use Goodreads I highly recommend checking it out!
Follow me on Goodreads! https://www.goodreads.com/user/show/52528664-avary-king
DISCLAIMER:
Read at your own risk! Some of the books that I recommend mention or talk about contain sensitive subjects that could be considered triggering for some individuals.
My first release is:
King of Pride (Kings of Sin #2)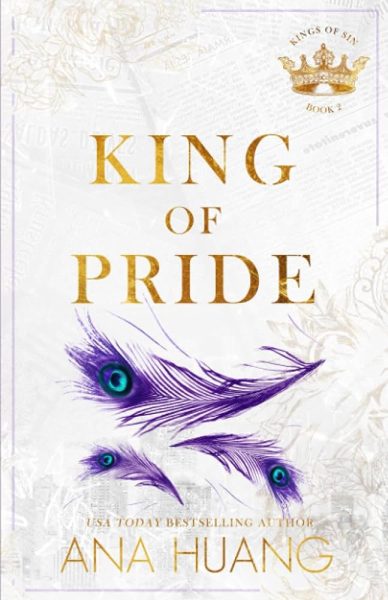 Author: Ana Huang
Page Number: 366
Released: April 27, 2023
Genre: Adult Fiction, Romance
Rating: 4/5 Stars
Read the description for King of Pride here:
https://www.goodreads.com/en/book/show/62994279
It should come as a shock to no one that I enjoyed this book. I've said it before and I'll say it again, Ana Haung doesn't write bad books. This book had an opposites-attract trope that was executed flawlessly. I love it when two characters who have different personalities are able to act as the missing piece of the other person's puzzle. Cold, calculating, and rigid Kai is the perfect complement to warm, spontaneous, and creative Isabella. What more could you ask for? Ana Haung is able to write characters that are so complex you feel as if they are real people. I deeply connect to all her characters, in fact, by the end of the Twisted series, I felt like I was a member of their friend group and had known the characters for years. Something I love about men written by Ana Haung is that they love big gestures. Flowers, spontaneous trips, jewels, expensive dresses, etc… They love spoiling their women and treating them like the queens they are. And one thing about me is, I love fictional men who spoil their women and treat them like the queens they are. I will say I did enjoy the first book in the series slightly more because the arranged marriage trope is in my top three favorite tropes. Dante did have that iconic line "Where's my wife" and I physically cannot resist that line, I am drawn like a moth to a flame. I could go on and on but it would be so much simpler if you just go and read the book so we can telepathically understand how amazing Ana Haung is.
My second release is:
Happy Place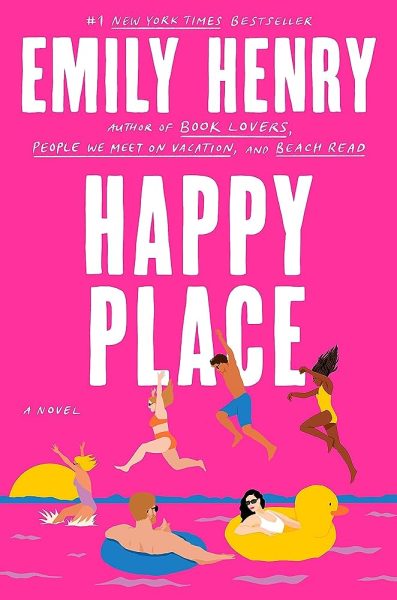 Author: Emily Henry
Page Number: 400
Released: April 25th 2023
Genre: Adult fiction, Romance
Rating: 3/5 Stars
Read the description for Happy Place here:
https://www.goodreads.com/en/book/show/61718053
Emily Henry surprised me with this read. I felt it had a different vibe to it. I know a lot of people who didn't love this book. Henry's other books are sparkly, heart-warming, and funny. This book felt like Henry stepping out of her traditional narrative, which I found very enjoyable. There was heart and depth in this book. The bare bones romance plot that most authors stick to is when a character is introduced, the character meets a love interest, the character falls in love, and happily ever after. But this story was like Henry tore a love story apart and had to put it back together in one book. It was definitely a style of book I don't read very often. It felt like a very emotional breath of fresh air. I absolutely loved the dynamics of the friend group in this story. While Book Lovers and Beach Read are still tied for my favorite Emily Henry novel, I still would recommend giving this novel a read.
The third release is:
Hello Stranger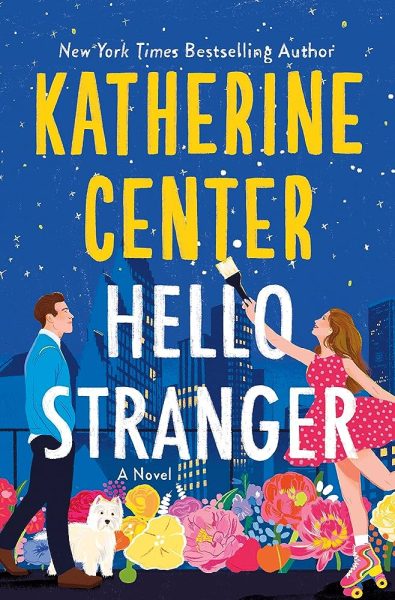 Author: Katherine Center
Page Number: 336
Released: July 11, 2023
Genre: Adult fiction, Romance
Rating: 4/5 Stars
Read the description for Hello Stranger here:
https://www.goodreads.com/en/book/show/61884987
Wow, what a read this was! Everything about this book was beautiful, the cover, the writing, the characters. Katherine Center put our main character, Sadie, through the wringer in this book. At a certain point in the book and in my head I was thinking "Give this girl a break Katherine." This book was an emotional rollercoaster. This being my third Katherine Center book I would describe her books as heartbreaking love stories. Our main character in this novel goes through A LOT, but after a car accident she develops what is known in plain terms as "face blindness." She can no longer see or recognize faces. Watching Sadie go through this journey of dealing with her new reality was very complex and dynamic. Like I said my heart was hurting for Sadie, she was almost completely alone in the world. I just wanted to reach into the book and give her a big hug. I can't talk too much about the love story in this book because there are a lot of twists and turns. But I really connected to one of the main love interests, Joe. Because when Sadie was at her breaking point, Joe was there for her. Sadie was one of those characters who hated asking for help, which I found extremely frustrating because she really needed help for 90% of the book. But Joe recognized Sadie's struggle and helped her without even asking. I definitely did not see that plot twist coming, so expect a surprise at the end! Overall, I would recommend this book, especially if you are looking to give your tear ducts a good workout. Also, if you would like to join me in the Parker Hate Club when you are done reading this book we are accepting new members!
Side note: I highly recommend reading the author's note in the back of this book. I am actually considering writing an opinion piece about the same subject.
My fourth release is:
Love, Theoretically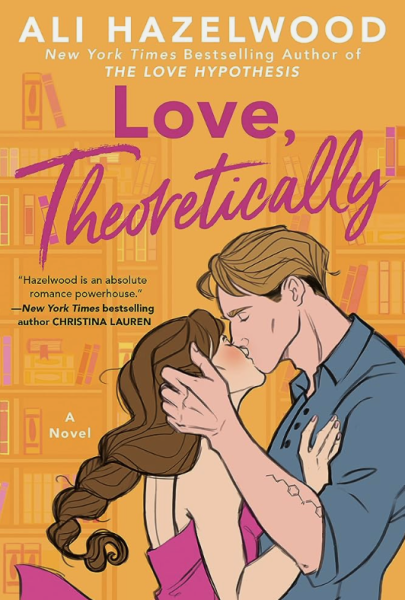 Author: Ali Hazelwood
Page Number: 368
Released: June 13, 2023
Genre: Adult fiction, Romance
Rating: 5/5 Stars
Read the description for Love Theoretically here:
https://www.goodreads.com/en/book/show/61326735
I am happy to report that my rule of Ali Hazelwood stands. Ali Hazelwood wrote this book, so I read it, and I loved it! I think after this book I am ready to rewrite the Hazelwood rule. The new rule stands as if Ali Hazelwood writes it I will read it and LOVE it. Is love even the right word? Obsession perhaps describes what Ali Hazelwood's writing does to me. I would follow Jack Smith-Turner into war. I would give Jack Smith-Turner all of my money if he asked me. I would do a lot of questionable things for a man who only exists in the beautiful realm of ink and paper. There's just something about men written by Ali Hazelwood that makes me instantly fall in love with them. There is nothing I love more in a book where a man is obsessed with his woman. Jack is hopelessly devoted to our main character. Jack is obsessed with Elsie and I am obsessed with the way Jack is obsessed with Elsie. The chemistry and tension in this book were absolutely delicious. We had a nice little rivals-to-lovers troupe in this book, which always gives me a nice dose of serotonin. I also really enjoy the way Hazelwood is giving a voice to what it means to be a woman in different fields of STEM/Academia. Aside from the amazing love story, Elsie had such a dynamic character arc in this story. I loved that Jack made her feel comfortable enough to be her true self, and she found the confidence to stop being such a "people pleaser". This was definitely my favorite release I read over the summer.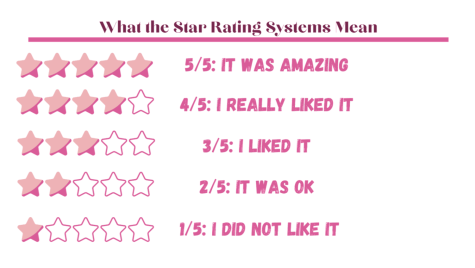 This is the rating system I try to follow for consistency. In all honesty, I will only recommend books that I like because I consider all readers my friends, so most of the books I recommend will be 3-5 stars because that means I truly enjoyed them and would read again.