Lovebird Book Reviews: Love in the Title
Hello readers! Welcome to Lovebird Book Reviews, where I, Avary King, review/recommend the latest and greatest of everyone's favorite genres: romance. This is a spoiler FREE zone!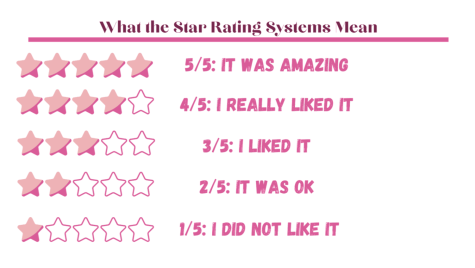 Before I get to the good stuff, this is the rating system I try to follow for consistency. Honestly, I will only recommend books I like because I consider all readers my friends, so most of the books I recommend will be 3-5 stars because I truly enjoyed them and would read them again.
Valentine's day has come and gone. But, as a romance enthusiast, I will take any chance I get to squeeze in more recommendations that fit the theme of "love" in the title. Maybe you and your significant other fed each other chocolate-covered strawberries after a beautiful candlelight dinner. Or, maybe you had a "Galentine's Day" party with your BFFs, an evening filled with snacks, themed cocktails, and a few rom-com movies. Perhaps you celebrated your single status by doing whatever you wanted on Valentine's Day. Maybe you nursed a heartbreak by eating ice cream in your pajamas while watching the saddest movie you could find. However you spent Valentine's day, these books will cure whatever romance you crave.
Both authors hit it out of the park this week with these books. Henry and Hazelwood give a master class in one of my all-time favorite tropes: enemies to lovers!
My first recommendation is: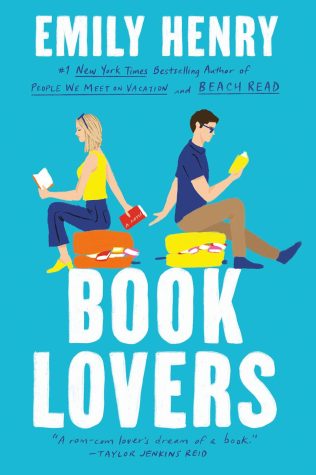 Book Lovers
Author: Emily Henry
Page Count: 377
Genre: Adult Fiction, Contemporary, Romance
My Rating: 5/5 stars
Tropes: Enemies to Lovers, Small-Town Romance, Sister Relationships
Read the description of Book Lovers here.
Miss Emily Henry has found a way to put addictive substances in her books. I finished this book way too fast. I couldn't put it down, and I didn't want to. This is a book made for book lovers by a book lover. It's reminiscent of a cheesy movie where the male lead breaks up with his uptight, city gal, workaholic girlfriend, moves to a small town, and falls in love with the wholesome, quirky, fun female lead who is trying to save her family's failing business. In the end, they live happily ever after. In Book Lovers, our main character, Nora, is the uptight, city gal, workaholic girlfriend.
Henry flips the traditional Hallmark script with this one by presenting a loveable main character who is career-oriented and values her independence. This book's real meat and potato is the relationship between Nora and Charlie. Nora is complex, ambitious, funny, and relatable. Charlie is sarcastic, handsome, smart, and relatable. They fit together like chocolate-covered strawberries, not perfect and clean but messy and DELICIOUS! Their chemistry is undeniable. Emotional, sexy, funny, and oh-so-swoon-worthy. The banter was top-tier. The story was enchanting. I adored this book! Book Lovers is what romance dreams are made of. Conclusion: Emily Henry forever!!
My second recommendation is: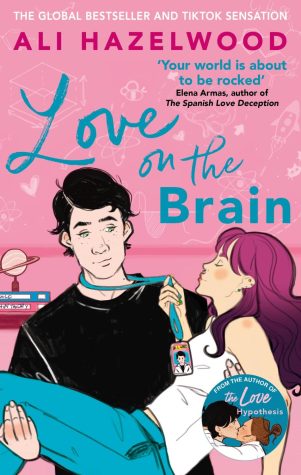 Love on the Brain
Author: Ali Hazelwood
Page Count: 368
Genre: Adult Fiction, Contemporary, Romance
Tropes: Enemies to Lovers, Women in STEM, Secret Admirer, Mutual Pinning, Guy Falls First.
My Rating: 5/5 stars
Read the description of Love on the Brain here.
Where do I even start with Love on the Brain? Nothing could have prepared me for how much I love this book. I might have accidentally read it in one sitting. This book was captivating, addictive, and enchanting. I give her an A+ for this hilarious STEM romance. Hazelwood is known for her adorably nerdy and relatable characters. Our main characters, Bee and Levi, have so much depth and weight to their characters. Bee is a neuroscientist, and Levi is an engineer. Bee and Levi went to the same graduate school. During graduate school, Levi hated Bee, or so she thinks (cackling). But when Bee takes a job with NASA, they must work together to co-lead a project.
Bee is everything you could want from a main character: smart, quirky, laugh-out-loud funny. She had so many girl-boss moments, and I was cheering for her the entire book. Levi is the perfect love interest, and I absolutely love him. He made my heart melt in ways I didn't even know were possible. This book made my romantic soul so happy. I cannot stop thinking about it. This book is on my brain 24/7. Don't let the cute cartoon cover fool you, as this book also has a great serving of spice. I loved every second of it, and I think you will too!