Honors Association Hosts "Friendsgiving"
The Honors Association celebrated the end of the semester with its first-ever "Friendsgiving" event on Thursday, November 10. Over 25 students and professors gathered in Turley 215 to enjoy an early Thanksgiving meal of turkey, mashed potatoes, stuffing, green beans, rolls, and pumpkin pie. This event doubled as the November General Meeting for the Honors Association, hosted by the student leadership: President Ally Quigley, Vice President Molly Simpson, and Secretary Abby Peterman. Topics on the agenda for this meeting included a recap of October projects and a look at future events for the spring. Students were also given the chance to provide anonymous feedback to the leadership about their strengths and weaknesses this semester.
Friendsgiving concluded a semester full of successful Honors events. The events with the largest turnout were the Fall Luau (a Hawaiian-themed welcome party to celebrate the start of the semester) and the October Lobby Talk (a panel discussion featuring 5 fan-favorite professors about the current state of affairs in Russia and Ukraine). Other notable Honors events included two volunteer opportunities at On Eagles' Wings (a facility offering therapeutic horsemanship for people with disabilities) and the Honors Move-In Dinner.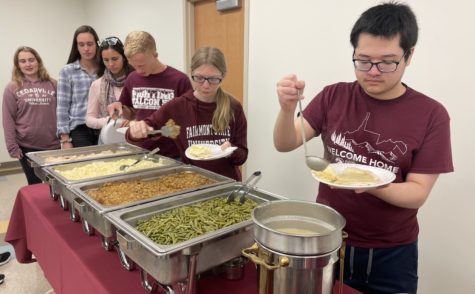 Though this was the first year for Friendsgiving, the Honors Association is no stranger to parties celebrating the start and close of each semester. Gatherings such as the Fall Luau, Winter Feast, and Spring Fling have been staple events for Honors students for over 10 years. Additionally, the current leadership is planning for a January Gala, a semi-formal dinner and dance that will occur during the first week of the Spring 2023 semester.
Dr. Robin Payne, Director of the Honors Program, was very pleased with the turnout for Friendsgiving, saying, "A huge part of what we do in Honors Association involves cultivating a sense of community among our students. The Honors Friendsgiving allows us to provide a social outlet for our students and provides them with the time and space to celebrate their achievements at the semester's end . . . and to commiserate on the trials and tribulations that might remain ahead with finals!"
President Ally Quigley agreed that Friendsgiving would certainly become a yearly tradition, as it provides an opportunity for social networking. "I think that Friendsgiving gives the Honors students a time to come together at the end of the semester and celebrate all of their hard work," said Quigley. "It's also a great time to enjoy a hearty meal!"
The Honors Association would like to thank Aladdin Food Management Services for catering this event. They would also like to give a special shout-out to Dr. Gregory Hinton and Professor Kellie Cole for attending Friendsgiving and spreading the holiday cheer.
If you are interested in joining the Honors Association or would like to make suggestions for future events, please contact Dr. Payne at [email protected] or the student leadership.