Fairmont State Hosts Trunk or Treat
On the evening of Thursday, October 27, over 20 vehicles lined up on the top deck of the parking garage to host Fairmont State's first-ever Trunk or Treat. This event was open to all FSU students and citizens of the surrounding communities. Participating vehicles were sponsored by student organizations such as the Honors Program and Creative Sustainability Council, as well as local businesses like Edison Electric. Representatives from the Falcon Center, Campus Police, and Admissions Center were also present.
This event was organized by Justin Rader, Assistant Director of Student Life. Rader said he was excited for the Trunk or Treat because it served as an opportunity for Fairmont State to give back: "My inspiration for this event was to give back to the community. I remember growing up in a community that was always giving back, and I wanted to pass along the spirit of giving and being able to share that with the community was great." In planning for the event, Rader considered other opportunities for trick-or-treating in the area, as well as the safety of participants. The top floor of the parking garage, which was emptied earlier that day, served as the perfect place for children to gather and collect sweet treats.
Audrey Simpson, a freshman studying Elementary Education, participated in the Trunk or Treat as part of the Fairmont State Honors Program. Audrey wore her favorite costume—a fluffy chicken onesie—as part of the car's theme, "Barnyard Friends." Audrey said that her favorite part of this event was decorating. "Our car included a farm backdrop, animal balloons, straw bales, and pumpkins. One community member told us that our car was her favorite by far!" said Simpson. She is looking forward to participating in the event for years to come.
The weather was perfect for trick-or-treating, with a sunny high of 57 degrees at the start of the event, and Rader reported that over 200 local children and FSU students were in attendance, making the event a huge success. Some of the best costumes of the evening included a Minecraft Creeper, a monarch butterfly, and a skunk. The best-dressed award, according to the Honors Program, went to Raven, a Rottweiler puppy who was dressed as a fairy. "We just loved her glittery fairy wings!" said Simpson. "There was no official award for best costume, but we've unofficially decided that Raven took home the gold."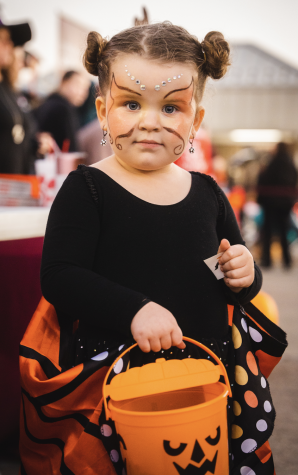 One of the best costumes of the night: a monarch butterfly.
Given the success of the Trunk or Treat, Rader expects it to be a new yearly tradition at Fairmont State. He hopes to see the event (both in cars and participants) grow bigger each year. If you have questions or comments about this year's event, contact Justin Rader at [email protected].