The Return of the Haiku Death Match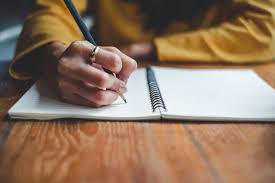 Friday, October 7 marked the return of the Haiku Death Match, a Fairmont State tradition for the Department of Humanities. On this evening, students, faculty, and community members gathered in Library MMA to witness one of the most high-stakes events on campus: competitive haiku writing. This event marked the 13th year of the tradition, following a 2-year hiatus due to COVID-19 restrictions.
Contestants for the 2022 Haiku Death Match included Brittany "Hypatia's Triumph" Cuchta, Erica "The Quantum Entangler" Harvey, and Tim "The Dizzy Dean" Oxley. The three judges present were Charley "Charle-Magnum Opus" Hively, Linda "Dame of Death" O'Connor, and John "Don't Call Me Shirley" Shirley. The Master of Ceremonies for this event was "Dr. Zero," known to students as Dr. John O'Connor. Dr. Thomas "Tommy Boy" Lawson served as the resident DJ.
Prior to the competition, members of the audience were asked to write down haiku topics and place them in a hat. As the Death Match proceeded, Dr. Zero would pull suggestions from the hat at random. These topics—10 in total—would serve as the prompts for each round of haiku writing. Contestants were then given 90 seconds to compose their best haiku. At the end of this time, each contestant would read their haiku aloud and receive a score from each of the judges on a scale of 1-10. Some of the topics from this year's Haiku Death Match included "mercy and grace," "rubber ducky," "Spartacus," "What would you do for a Klondike bar?" and "Dr. Nathan Myers."
The Haiku Death Match was created and implemented by Dr. Elizabeth Savage, Professor of English at Fairmont State. Savage first encountered the phrase "haiku death match" at a 2008 undergraduate research conference in Wisconsin. After hearing the title from another professor, she was inspired to create the competition format that students and faculty have adored for over a decade. Dr. Savage was thrilled to see the Haiku Death Match return to Fairmont State, as it marked the return of a fan-favorite event from pre-COVID times.
This year's Haiku Death Match winner was Brittany "Hypatia's Triumph" Cuchta with well over 100 points. After she was awarded the top-secret prize—a plastic tiara donated by Dr. O'Connor— Brittany thanked the crowd with another impromptu haiku: "Thank you for the fun, / I am honored to have won, / I'll see you next year."
Due to the lasting popularity of the Haiku Death Match, students across campus are looking to start a student-oriented version of the event, where students can serve as both contestants and judges. If you are interested in helping plan this event or would like to compete in the future, contact student Landon Brewer at [email protected].edu.