The Toxic Culture of Greek Life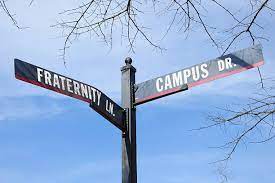 Trigger Warning: This article briefly discusses the topic of sexual assault.
When you think of Greek life in college, you probably imagine a bunch of sweaty, half-naked 20-something years olds in bed sheets at a toga party. This is thanks to pop culture and popular movies like National Lampoon's Animal House (1978), American Pie Presents: Beta House (2007), The House Bunny (2008), Neighbors (2014), and television shows like Greek (2007) portray fraternity house parties. There are also party anthems like Asher Roth's "I Love College" from 2009, where the music video was set at the fictional fraternity house of Alpha Sigma Eta (AΣH) during a party. In the music video, they are doing drugs, excessively drinking, and playing strip poker and beer pong. From starting out as a secret society in 1776 to becoming a huge part of pop culture, Greek life has evolved a lot over the past 246 years.
There is something very alluring about the way that fraternities and sororities are portrayed in the media, with this promise of lifelong friendships and memories that makes you want to join. Most students join Greek life as a way to make friends and be involved while in college, but of course, some join because they want to party. The real question is, does Greek life actually promote brotherhood and sisterhood, or is it really promoting toxic culture and unhealthy behaviors like dangerous hazing, alcohol and substance abuse, and rape culture?
Studies show that about 53% of students who are involved in Greek life, clubs, and sports teams while in college experience hazing. Hazing is seen as a ritual and tradition when it comes to initiating new members, and not all hazing is bad, but the amount of hazing-related deaths linked to Greek life is not okay. There have been over 200 hazing-related deaths in Greek life since 1838. There has been at least one hazing-related death each year from 1969 to 2021. There were 40 hazing-related deaths between 2007 to 2017 alone. Most hazing-related deaths involve alcohol poisoning, but some involve foul play and a even few suicides from students who were tortured and faced public humiliation.
On March 7th, 2021, Stone Justin Foltz died from alcohol poisoning three days after attending a new member initiation event for the fraternity Pi Kappa Alpha. He was a 20-year-old and a sophomore at Bowling Green State University. After the initiation, he was dropped off at his apartment by members of the fraternity, where his roommates had to call 911 because he was in dire condition. He was taken to the hospital where he later died. He was just like us, a college student with his whole life ahead of him and it was taken away because of a hazing initiation.
Excessive alcohol consumption and binge drinking are normalized and even encouraged by Greek life members. A study showed that almost half of the fraternity members that lived in a chapter house had symptoms of alcohol use disorder by age 35. Four out of five Greek life members are binge drinkers, compared to two out of five students not involved in Greek life who are binge drinkers.
Studies have also shown that men in fraternities are three times more likely to rape women than their nonaffiliated classmates and that most gang rapes that happen on college campuses are linked to fraternities. Also, women in sororities are 74% more likely to be raped than other women in college.
Due to all of the negative attention that some fraternities and sororities have brought to their universities, certain universities have started shutting down chapters, and even ending Greek life on campus. I spoke with a few Fairmont State University students who are members of Greek life and they said that they believe that it is okay for universities to shut down Greek life chapters for hazing and sexual assault, but they do not agree with campuses getting rid of chapters who have not gotten in trouble because it is unfair for students who have not done anything wrong. Do you believe that Greek life should be kicked off college campuses, or do you believe that it is important for preserving history and tradition? Let us know how you feel about this in the comments!