Why You Should Go to the Fairmont State Men's Basketball Games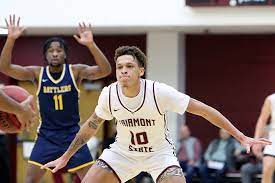 There are many different reasons to go to the Fairmont State Basketball games this year. The Falcon squad has talent from top to bottom. As always, Coach Koenig wants to play a fast-paced game that is sure to create exciting moments every time they step out on the court. The players on the team have confidence in each other and know that they are going to perform well.
With a record of 23 wins and 8 losses last season, the team certainly has success to build on, and they plan on using their strengths to achieve this. Coach Koenig also stresses that every team needs to take on a life of its own and create its own success, and this year's team will find its own rhythm. Coach Koenig wants everyone on the team to be prepared to step up at any given moment for the success of the team. Players have spent the preseason conditioning and practicing to be able to do just that.
All this preparation aims to provide some thrilling games for Falcon fans this year. Preseason drills have focused on creating a fast-paced style of play that is sure to be exciting for the fans to watch. Senior, Seth Younkin says, "We play a high level of basketball, especially at the Division II level. The games are really fast up and down, there's a lot of action." Younkin also noted that this season should be one of the best they have had in the last few years, and the team is looking forward to the start of the season.
Obviously, veterans of the team like Isaiah Sanders and Zyon Dobbs will lead the team this year. Sanders was 1st Team All-Conference for the 2021-2022 season and Dobbs was 2nd Team All-Conference. There are several exciting younger players in addition to the returning players on the team. Freshman Tyheil Peterson and freshman David Jolinder have been impressive leading up to the season.
Coach Koenig says that there are many reasons why the fans should show up to the games this season. One of those reasons is free gifts for the fans. "Why do you come?" Koenig asks, because "it's fun, it's entertaining, you know the guys, you interact, and hey, you play your cards right and get a little lucky, you're on the court and you may win some gift cards."
To get in gear for the season, fans should come out to Maroon Mania at the Feaster Center on October 25 at 6:00. This will be the kickoff to Falcon basketball. There will be free food, gift cards, giveaways including Apple AirPods, and possibly some scholarships handed out. And, of course, the Falcon players. So, come on out and don't forget to bring the noise!