Excitement for Men's Basketball Season Builds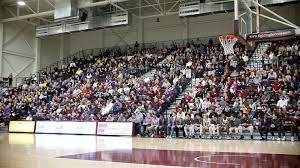 With not much time left before the basketball season is set to begin, the team seems excited to get started. The players have shown the coaching staff that they want to get better and want to have a great season this year.
Coach Koenig says that from top to bottom, the team has had a good off-season. He says that the players have been working hard and have been improving their game. Koenig mentioned that returning all-conference players Zyon Dobbs and Isaiah Sanders have done well in this past offseason. George Mangas was impressed with his work ethic and how he is improving. In terms of new additions to the team, players such as David Jolinder, Fonz Hale, and Tommy Williams have made the coaching staff excited for the upcoming season with how hard they have worked.
The players also felt good about their offseason. When asked about how he felt about this past offseason in an interview, Isaiah Sanders said that he made improvements to some of the things that he struggled with previously. "Me personally, I worked on a lot of things that I struggled with. I got a little stronger, worked on my left hand. Just little things I thought I could tweak a little bit," said Sanders. Both Zyon Dobbs and George Mangas said that they improved physically, getting both stronger and faster. Mangas also mentioned that he has an improved jump shot, specifically from mid-range. Overall, the team seems happy with their performances and how they have gotten better over the last few months.
When asked about who they thought was the most likely to have a breakout season, the players had a few different answers. George Mangas was one of the names mentioned a few times. They have said that he had a solid freshman year and an impressive offseason and is set to have a great sophomore campaign. Another name was David Jolinder.
Coming in this year as a freshman, he has the coaching staff and team excited for what's to come. Coach Koenig says that he does not consider Jolinder a freshman, as he played professionally in Sweden. Adam Deininger and Zac Kimball were also named to look out for this season.
In terms of goals for the upcoming season, Isaiah Sanders has a couple of big ones. He says that he wants to be an All-American and Player of the Year this year. Zyon Dobbs also has some big goals. His biggest goal is to be first-team all-conference this year.
Get ready for January 14th, when West Liberty comes to Joe Retton Arena. Both the players and the coaching staff are excited to face them. West Liberty is considered one of the top teams in the conference and one of the bigger rivals for Fairmont State. The matchup against West Liberty is always a good one.
From top to bottom, the players are ready for the season to begin in November and to see all the fans in the stands.