Best Places to Study on Campus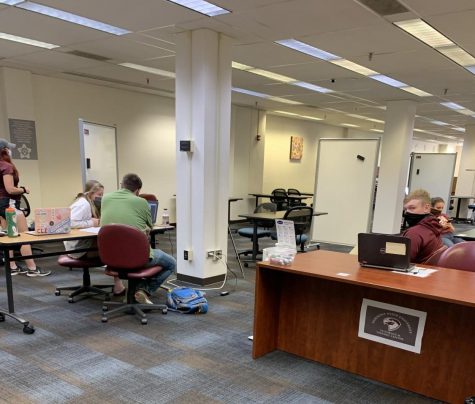 A very important part of being in college is having good study habits. To get the most out of your studying, it is key to have a study schedule and good places where you will be able to focus. That said, everyone's study habits are different, some people require complete silence when studying, others need background noise. Some people can't focus in their own dorm, apartment or bedroom because they are easily distracted, so here are some places where you can study on campus.
During the day you can study in the library, where you can request a private study room. There are common areas provided in the dorms and other various buildings around campus. When the weather is nice, there are tables located throughout campus and outside of the library. If you need access to a computer or printer, there are computer labs in the library, Bryant Place, the Engineering and Technology building, University Terrace, and the Falcon Center.
Late at night studying can be hard, especially if you have a roommate, so here are my favorite places to study. If you live in a dorm, the kitchens or common areas are usually vacant and quiet. Plus, if you need help studying, there is a tutoring center available to all Fairmont State University students. It is called the LEAD center (Learning, Enrichment & Academic Development Center) and it is located on the second floor of the library.
If you want to make an appointment you can call, go in person, or go online to their website or to the LEAD Center page on the Fairmont State University website and click "Book Now!" You can also go in without an appointment and they can try to squeeze you in.