Get to Know – James Smoak
Koda Hedrick, Staff Reporter
November 25, 2020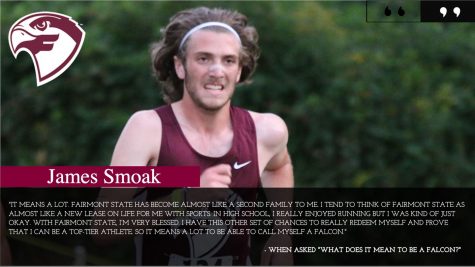 "GET TO KNOW" FEATURES: Throughout the fall 2020 semester the Fairmont State Athletics Department will be posting "get to know" features to allow fans, donors, parents, and fellow student-athletes to get to know members of the 17 athletics programs at Fairmont State University. For today's feature, we sat down with sophomore men's cross country runner James Smoak.
Why did you choose Fairmont State?
"I chose Fairmont State because it was pretty much the only school that fit both the student side of things as well as the athletic side. The different schools I was being recruited by for cross country were relatively smaller Division II, Division III or JUCO schools. I wouldn't have enjoyed going there as a student. So I really wanted to come to a school where I would be equally as happy as a normal student as well as a student-athlete."
Can you tell me your story/journey, about your family and where you were raised?
"I went to high school in Elkins, but I've lived all across the eastern side of the country my entire life. I was born in Greenville, South Carolina. I moved to southern Florida and then lived in Charleston, West Virginia for the first five years of grade school. After that, I moved down to southern Louisiana for three years, then I came back to West Virginia for the last four years of school before college. One of the reasons why I moved to southern Louisiana is because that's where my mom is from. My dad's side of the family is mostly from either South Carolina or northern Virginia."
What was it like growing up in so many different places?
"It was definitely different than just growing up in one spot. As a person and a leader, it gave me an ability to easily make friends and make valuable connections. Every new place I went to I would always find new friends relatively easily."
When you first arrived at Fairmont State in 2019 you were coached by Rob Nucilli. Since, Sarah Amos has stepped up to lead your program as of this past summer. Can you describe what that transition has been like?
"It's been good. At the beginning we knew Sarah from the girls' team, but we didn't know how well she would coach us from the boys' side. We run a longer distance. Our biggest races are almost double the distance as the girls' races. So we were kind of hesitate at first but the team has bought in to her training ideas. The transition overall has been relatively positive."
You have five members on the roster. What is it like having such a small number of teammates?
"It's definitely a challenge to say the least. None of us can afford a bad day at a race. I think there's also some blessings in disguise too. I've heard the nightmare stories of young freshmen who come onto a team with 20-25 kids. They just kind of get tossed into the pile like 'if you can't handle the training you're going to get left behind, see you next year maybe.' Whereas with Fairmont State, there's definitely a little more personalized training. We all have a very close one-on-one relationship with Sarah. She has a very personal individual training plan for each of us. That's always very helpful for young runners."
Can you describe your relationship with your teammates and Coach Sarah Amos?
"My teammates and I have a great relationship. We meet almost daily. We talk on the phone daily. Sarah and I have a great relationship as well. We just wrapped up what would've been our semi-fall season so we're not in as much contact at the moment. I have a great relationship with my entire team and my coach. It's real helpful to have that relationship on such a small team. Those are the only people you're going to see. I don't have the option of having another five or six guys I can go do training runs with so it's really nice to have positive relationships with all of them."
How motivated or anxious are you to be competing right now?
"We're extremely anxious. We're really motivated for the spring. Coming in this summer was probably all of the teams' best summer of training. When we got the news that the season was cancelled by the conference and moved to the spring it was realty devasting. We were all in probably the best shape of our lives. We were definitely going to get new PRs and have some really good race results I felt like. But we try to put that behind us as much as possible. We're going to use that same positive energy going into the spring season. Starting in a couple weeks, we're going to get another good 2-3 months of training under us and hopefully go into the spring season with that same sort of fitness and that same motivation to get those results and PRs again."
What are your expectations for this spring?
"My expectations for this spring haven't really changed since what I expected from this fall. I fully expect at least two or three of us to be top 20 all-conference. I fully expect our team to place well at the conference meet. Obviously, we don't have a national or regional championship anymore. I was expecting our team to place well at regionals and hopefully have some guys place really well there also. But right now, the focus is just on placing high at the conference meet in March."
What does it mean for you to be a Falcon?
"It means a lot. Fairmont State has become almost like a second family to me. I tend to think of Fairmont State as almost like a new lease on life for me with sports. In high school I really enjoyed running but I was kind of just okay. With Fairmont State, I'm very blessed. I have this other set of chances to really redeem myself and prove that I can be a top-tier athlete. So it means a lot to be able to call myself a Falcon."
Major: Biology; Expected Graduation: Spring 2023; Future Plans?
"My goal would be to help coach a cross country team whether collegiately or at the high school level. If that doesn't work out, I would like to be a researcher for a pharmaceutical company."
Have you been able to stay engaged and connected with your teammates and coach during this time with the restrictions and precautions?
"In the summer it was kind of difficult to do that. It was not as much because of the precautions. Those had something to do with it, but mostly a lot of us were just focused on staying healthy and staying safe. We all had our own little daily routine at that point. I know some of the guys that live within the 15-20 minute radius of Fairmont would regularly meet up but for me it was kind of hard to do that living all the way in Elkins. We still had a good and solid line of communication being pretty much the same as we are right now. Over the summer we would talk pretty much daily."
What has it been like for you as a student and person with online classes and the different restrictions and precautions?
"It's definitely been a challenge. It can be hard to stay motivated to do work when pretty much the only thing you see everyday is inside of your dorm room. You can't really go out and do other things. But I feel like I've done fairly well handling my course load this semester. It's definitely been a new challenge but I was up for it and I think I've done fairly well considering the circumstances."
Any activities/interests outside of school and your sport?
"Since the age of five, when I first moved to Charleston I've been an avid skier. That's what I do in the wintertime. That's my job as a ski instructor at Canaan Valley Resort. Usually the wintertime is a nice time of year for me to get away from school and some of the stresses that come with being a student-athlete."
Biggest moment(s) or accomplishment thus far in and away from your sport at Fairmont State?
"In athletics I don't really like to think about my biggest, brightest moments. I kind of like to take what I did wrong in races mostly so I can improve. One moment could be at the Louisville race last year. I raced fairly well and beat some guys that were pretty good (top of the state in high school, etc.) That gave me the confidence I needed to say 'Okay, I can be really good at this sport if I continue to improve in my training.' I really needed that confidence boost as a young freshman."
"Away from running, [I would say] just stuff I've done in the community around Elkins I'm very proud of. Last semester I made the dean's list and I think I was like the first in my family to make such an achievement."
What would you want people to know about you?
"I would want people to know that I'm a very understanding person. Sometimes I feel like student-athletes can kind of give off that notion that we're kind of better than everyone and don't want to be friends with them. I like to try to be the opposite. I can understand when my teammates or my friends are going through a rough time in their lives or something like that. I feel like I can always be that friend who can be there for them."