Get to Know – Bayley Wellings
Koda Hedrick, Staff Reporter
November 23, 2020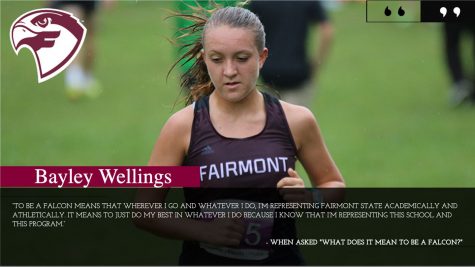 "GET TO KNOW" FEATURES: Throughout the fall 2020 semester the Fairmont State Athletics Department will be posting "get to know" features to allow fans, donors, parents, and fellow student-athletes to get to know members of the 17 athletics programs at Fairmont State University. For today's feature, we sat down with junior cross country runner Bayley Wellings.
Why did you choose Fairmont State?
"I didn't know where I wanted to go to school, but when I came here for Maroon and White Day to toured campus, I met some of my teammates and my coach and I knew I wanted to come here."
Can you tell me your story/journey, about your family/friends, and where you were raised?
"I was raised in Glenville – a really small town. I graduated with like 63 people. I played basketball, softball, and ran cross country. That's where most of my friendships have stemmed from. I just come from a small town with so much hometown support."
Biggest moment(s) or accomplishment(s) so far on the course and off the course?
"My freshman year (2018) I received second team All-Mountain East Conference honors. Off the course, academically, I've made the president's list every semester at Fairmont State."
What did it mean to you to earn second team All-MEC honors?
"That meant a lot because I never expected to receive that, and my coach set goals for me that I never thought I could achieve. It showed me where hard work, good coaching, and great teammates could get you."
Can you describe your relationships with your coach and teammates?
"I love my coach. Sarah (Amos) is awesome. She always pushes us, and me, to do our best and to work in the offseason. She pushes me to do more than I thought I could ever do. I also love my teammates. They're a really awesome group of girls. We always push each other, and we have a strong bond."
Individually, you finished in the top 10 overall at the Golden Bear Classic in 2019 and as a team you finished third. You also finished in eighth place last season at the Penn State Fayette Cross Country Invitational and the team took 2nd in that one. The team finished 7th at the MEC Championships. What do you make of last season?
"Last season was really fun. It was really cool to see how we all improved as a team with us working together. It was mostly the same group of girls as my freshman year, so it was really cool to see how we all improved."
As a team, you finished in the top five in six different races in 2018, including placing 5th at the MEC Championships. What was it like to be a part of that success early on as a freshman?
"It was really awesome because I came from a school where our cross country program wasn't very big. Coming straight into that as a freshman was so encouraging. I just fell in love with cross country at the collegiate level."
What does it mean to you to be a Falcon?
"To be a Falcon means that wherever I go and whatever I do, I'm representing Fairmont State academically and athletically. It means to just do my best in whatever I do because I know that I'm representing this school."
What are your expectations for this spring? What are you hoping for this season individually?
"It's going to be really weird because we only have a fall season. We've never competed in the spring. But we're really excited, since we don't have a season now, that we get to compete this year.
"My goal is to beat my current 5k and 6k personal record and to just work hard. I'm down to my last two years, so I just want to make the best of it."
Major: Exercise Science & Psychology; Expected Graduation: Spring 2022; Future Plans?
"I don't exactly know yet, but I know whatever field I choose a career in, I just want to help people."
Have you been able to stay engaged and connected with your coach and teammates during this time with the restrictions?
"Yeah. During volunteer weeks we get to meet a couple times a week to run as a team. That's nice, because it maintains some kind of normalcy when we usually would be competing right now."
What has it been like for you as a student and person with online classes, the restrictions, and precautions?
"It's definitely been different just with class sizes and guidelines on campus. I also know that everyone else is having to adjust to these changes as well. We're all having to change our lives in a way."
How motivated or anxious are you to compete right now?
"I'm really anxious to compete just because right now would be our season. I am super excited for the spring to see what happens with us competing."
Activities/interests outside of school and your sport?
"I love the outdoors. I love hiking, kayaking, and hunting. I also love reading and anything artsy."
What do you want people to know about you?
"I try my best in whatever I do. It's just the way I was raised and where I come from. I'm going to give my best effort in everything no matter what."