Get To Know – Courtney Worcester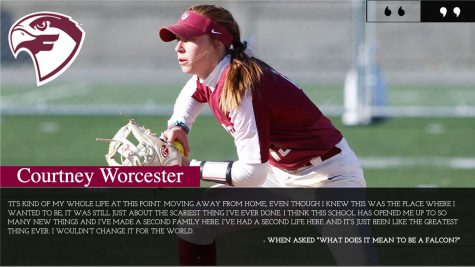 "GET TO KNOW" FEATURES: Throughout the fall 2020 semester the Fairmont State Athletics Department will be posting "get to know" features to allow fans, donors, parents, and fellow student-athletes to get to know members of the 17 athletics programs at Fairmont State University. For today's feature, we sat down with senior shortstop, Courtney Worcester, from the Falcon softball team.
Why did you choose Fairmont State?
"I visited a couple different schools when I was being recruited, because I basically needed sports to get through college. I wouldn't have been able to afford it otherwise. At every other school, I was just like 'no this isn't right. I don't see myself here.' As soon as I pulled on the Fairmont campus, without even getting out of my car, this was the first place that I could see myself spending four years at and enjoying it."
Can you tell me your story/journey, about your friends/family and where you were raised?
"West Virginia is definitely very different than back home. Where I'm from is about 45 minutes from Chicago (Bloomingdale, Ill.). I'm not in the city, but it's still a much more urban area. Around there, it's considered a small town. We don't have a ton to do: bowling alley, movie theater, that's about it.
"I have a bigger family. I have three other siblings. We all really worked hard in school and in sports so that we could put ourselves through college as best as we could and come out with as little debt as possible."
Biggest moment (s) or accomplishments on and off the field so far?
"My biggest accomplishment off the field would be performing the way that I do in the classroom. I've always taken my grades really serious. I feel like I've built a lot of relationships within my major with the professors, and with other students where they kind of look up to me. But also, I've built those relationships with my professors so that I can go to them with any personal problems that I have as well as school problems. I was a very shy person before I came to college."
"On the field, I would say just my overall growth as an athlete. I came into college and probably didn't deserve everything I was given. We, as a senior class now, have grown so much and have become people that our teammates can look up to. We want to be something special."
You earned first team All-MEC honors as a freshman in 2018. Did you expect to perform at that level coming into college?
"I don't think I had very many expectations because you just never know. College is so different and everyone always talks about how you'll never be prepared for college ball. Each game, I expected to do better, or I thought I could've done better than what I did. I didn't really keep up with stats all that often either. When I got MEC all-conference my freshman year my teammates said 'congrats' and I didn't even know what it was. I asked Coach Light if I really deserved this because I had a lot of errors on the season and I didn't think I deserved everything I was given my freshman season. I don't think I had an expectation, but I think that kind of set the expectation for the years after as a player, and the baseline of what I wanted to improve on."
Your team struggled through the tough non-conference portion of the schedule last year but had not yet made it to MEC play before getting cut short due to COVID-19. What do you make of last season?
"We're not really concerned with last season because that was some of the top competition in the nation. We could've easily gone down to Florida and played teams that weren't of that caliber and walked out with a 13-0 record, but instead we faced the toughest competition. We held with the previous national champions and went into extra innings with them. Every single game that we played, it was 'we should've won that.' I think that we've grown. We're an older team. We constantly are getting new players with new talent and skills. We're not putting what happened in Florida as added pressure. We're just excited and we hope that we get the chance to play this year." 
In 2018, your team won the fourth seed in the MEC Tournament. In 2019, your team clinched the third seed in the MEC Tournament and earned 26 wins, which was the most since 2014. What has it been like to be a part of that success?
"It's been super exciting because when my class came in as freshmen, we were told that we were going to be part of remaking this program since Coach Light came in. That's exactly what we've been trying to do and what we're still trying to do. We want to reestablish the culture of Fairmont State softball as a place where kids come, and you don't have to ask them to be competitive. It's just in their blood. They walk on every single practice and give it their all and when they walk off the field they have 25 other best friends standing there supporting them no matter how they played. It's something that's really special that not all people get to be a part of creating. The success on the field is awesome and that's what we're working towards, but there's so many other things that have gone into that, which a lot of teams already have that we've had to build. I think that's been the biggest opportunity we've had and the biggest success is reestablishing the program into something better."
Can you describe your relationships with coaches and teammates?
"Coach Light is basically like our dad when we're away from home. He is hard on you when you need it, but off the field anytime that you need something he drops anything and is right there for you. That's a big reason why I chose Fairmont State, his personality and how willing he is to give up his time, drop whatever he has to do, and do things for others. Greg (Evans) is like our goofy uncle. He is always there to put a smile on your face and make you laugh."
"For my teammates, you have the people that you're closest with, which for me is my class. But, each year a group of girls comes in and they always mesh with the existing players. There's never been a person that we've said we don't like or wished wasn't here because of their attitude. It's always girls who fit right in and I think that we adjust every year to who comes in to make sure they feel welcome, and they adapt to us as well."
How would you describe the culture of your team right now?
"It's hard because this year is obviously different than any other. We've had to deal with a lot of adversity just like other teams. I think we're bigger on being strict with each other on the rules that the university has put in place such as masks, social distancing, and not going out because we want to have a season so bad since that was taken away from us last year. All we're focused on right now is getting our competitive nature back and finding ways to mesh even though we can't all be together. We're all getting to know the freshman, but it's harder this year because we can't all be together in one area. We're still working hard because we're expecting to have a season."
What was it like getting the season cut short last spring?
"That was just about the worst thing ever especially after our performance in Florida not being the greatest. We we're so ready to come back and dominate in conference. All of a sudden that was taken away from us. We felt like last year was a big stepping-stone where we were going to go far, farther than Fairmont State softball had ever gone, and we didn't even get that opportunity."
Have you been able to stay engaged and connected with coaches and teammates during this time with the restrictions?
"Yeah. Even during the summer before we came back to school, we had video calls every week just so coach could see us, we could meet with each other, talk about things that were going on, and make sure that everyone was staying in shape so that when we came back we wouldn't be so far behind. I talked to coach multiple times a week over the summer and even more now that we're back in school. We're definitely all staying connected. The team also has a big group chat that we goof around in."
What are your expectations for this spring?
"I expect to have a season. I expect to make it far in the playoffs. With the amount of talent we have on this team, it should be a no brainer. I expect to win conference. There shouldn't be any team in conference that is better than us. I expect to have fun. I feel like when you're playing a sport in college, it's kind of your job since it's getting you through school. It can put a lot of pressure on you and cause you to lose the fun of it. Since last year, this is the first time in a long time that softball has been fun for me. I just want to keep that energy. And, I want to make sure my teammates are having fun and that we're doing what we can on the field and wiping everyone's mind from last year and what they think of us because of that, because that's not us."
How motivated or anxious are you to play right now?
"I'm so motivated. It's just fun and it's all I want to do after my long days. Especially not having a season last year, that just boosts it. The seniors, we're ready for it. This is our last shot and we're going to make the most out of it."
Major: Physical Education. Expected graduation: Spring 2021. Future plans?
"I'm not sure. I love teaching. I'm in my student teaching right now so I'm getting like the full experience. I want to just go and experience life and wherever that takes me. I would love to stay in West Virginia. I would love to go back home. I would love to go somewhere new. Wherever life takes me, that's where I'm going. I'm excited to give back to my professors that have given me so much over the past four years and use all the knowledge that I've learned. I would also love to coach sometime in the future and stay involved with the sport because it's been a part of my life for so long, that I think it'll be hard to let go."
What does it mean to you to be a Falcon?
"It's kind of my whole life at this point. Moving away from home, even though I knew this was the place where I wanted to be, it was still just about the scariest thing I've ever done. I think this school has opened me up to so many new things and I've made a second family here. I've had a second life here and it's just been like the greatest thing ever. I wouldn't change it for the world. I wouldn't change where I am or who I'm with. This school has just been the best environment for me for the last four years, so I'm very grateful."
What has it been like for you as a student and person with online classes, the restrictions, and precautions?
"It's different for me since I'm in my student-teaching. I come to school five days a week. I'm here from 8 to 3:30. From what I've heard, it's hard for students and people who aren't used to online schooling. I feel bad for them. I wish everything could go back to normal and I pray that it does soon. As far as the restrictions go, I think the hardest thing is when you see other people not following the rules and you receive the consequences for that. But this is something that we've never experienced, and I just hope it gets better."
What do you want people to know about you?
"I want people to know that everything I do on the field and everything I do in the classroom is to be a better person. And I do it selflessly, especially on the field. I'm out there busting my butt every single day for my teammates and for my coach. Especially with this being my last year, I see so much value in the time that we have on that field and how easily it can be taken away when you least expect it. I want them to know that I don't do it for me, that I do it for them. I do everything for other people. I can come off kind of mean sometimes, but I never mean it that way."