FSU Students reject Bubly Sparkling Water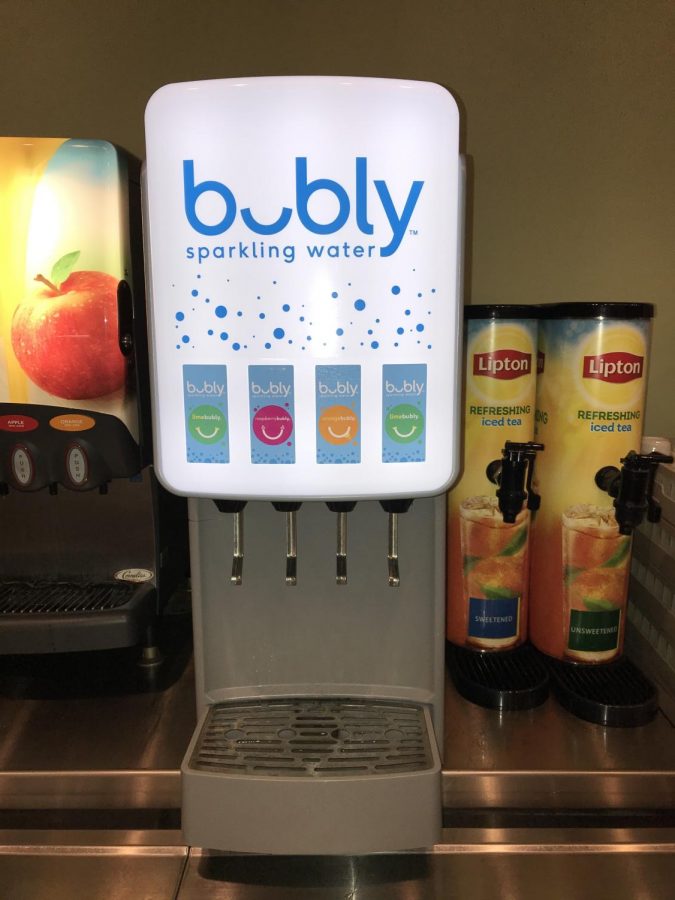 Kayleigh Casto, Staff Reporter
February 18, 2020
Aladdin Food Management Services, LLC of Fairmont State University surprised students this semester with a new drink option in the dining hall. The Bubly Sparkling Water machine replaced the plain and flavored water machine.
Aladdin's Production Manager Casey Murray said, "The response was almost immediate that students didn't like it." Murray addressed that plans are in the works to remove the Bubly Sparkling Water machine after the students' response.
Murray noted Pepsi's success with their launch of Bubly Sparkling Water nationwide in bottles, cans and eventually implementing drink machines on university campuses.
Though the new option awed students of Fairmont State University the first few weeks of classes, not everyone was allured by the bubbles.
"I like the idea they had to put in the Bubly Sparkling Water machine; however, I have had Bubly from other places before. The water from this machine does not taste as it should. I would probably prefer the old machine over the new one," said Charles Marshall.
Although not all students preferred the Sunkist flavored water machine, many students felt it was a better alternative to the Bubly Sparkling Water.
"I like the idea. I didn't like the old machine, but Bubly is gross," said Laura Burns.
"Personally, I liked the old machine better. I'm not a huge fan of sparkling water. The old one was more flavorful, and it seemed like a lot more people used it," said Chase Collier.
"I don't like it. I miss the other flavors," said Ivie Shahan.
"I think it's nasty. I miss the old machine," said Gracie Hess.
Bubly Sparkling Water is a different option for students to try; however, adding more carbonated drink options to the dining hall limits the available options for non-carbonated drinks.
"Don't get me wrong, I think it's useful for those who like pop to have a zero-calorie option. Though not everyone likes carbonated water," said Barbara Wallace.
"I went on a fast three years ago to not drink carbonated drinks. Now that the water machine has changed, I have less to drink in the cafeteria," said Erin Hohl.
"I think that the Bubly machine isn't good and should be replaced. I never use it and I think the taste is absolutely awful," said Jacob Linn.
For students like Linn, Burns and many others, the dining hall has a comment box. Any customer can write their feedback on a comment card and slip the card into the box for review.
About the Contributors
Kayleigh Casto, Staff Reporter
Kayleigh Casto has been a Staff Reporter for the Columns since Spring 2019. She is currently a sophomore Communication Arts major. She is also the Media...
Anna Cronin, Executive Editor
As a sophomore at Fairmont State University, Anna Cronin is the executive editor of The Columns and a psychology major.