Fairmont State University and HOPE hold Candlelight Vigil
Hope is an optimistic feeling one has for the future. It represents the idea that either things can be better, or they will be better. Unfortunately, hope can be difficult for all to hold and a heavy burden to bear. It can seem like an empty promise and be out of reach. When hope ironically begins to feel like a hopeless endeavor, it is most important for our survival.
Hope, Inc. aims to embody the moment that hope no longer feels impossible. They fight for the light at the end of the tunnel and are available to guide those suffering from domestic abuse to the safe side.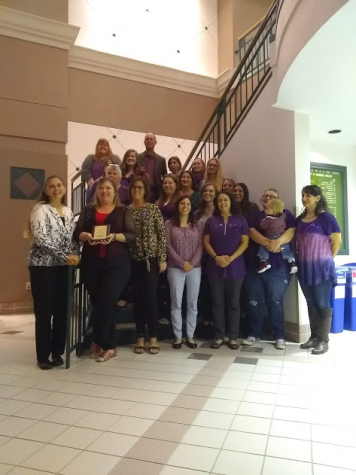 October is a month that represents celebration and awareness. Many celebrate Halloween and Hispanic Heritage Month, advocate by observing Breast Cancer Awareness and Suicide Prevention Day or reflect during Domestic Abuse Awareness Month.
Some believe domestic abuse is easily defined, but this is far from true. Domestic abuse comes in many forms and can be considered a "taboo" or "uncomfortable" topic. This misunderstanding and relative silence on the issue leaves many victims feeling unjustified, confused and alone.
HOPE, Inc. is a domestic abuse awareness and advocacy agency of Marion and surrounding counties. The agency runs outreach and informational events within the area including at Fairmont State University. This year, HOPE provided an informational table in the Falcon Center and at the candlelight vigil to raise awareness, offering a safe haven to those who have or are currently suffering from domestic abuse. At the candlelight vigil, President of Fairmont State University Dr. Mirta Martin, HOPE's Children's Case Manager Ms. Angelica Felvus, and President of SPSA Ms. Abigail Short spoke to help raise awareness, and guest speakers Reverend Jordan Trumble and Ms. Emily Lasko shared their personal journeys of they and their loved ones surviving domestic abuse. At the event, the Fahey Award was presented to First Energy by HOPE's Board President Mr. Zach Wallen for their contributions to HOPE, Inc. and the community of Fairmont, WV.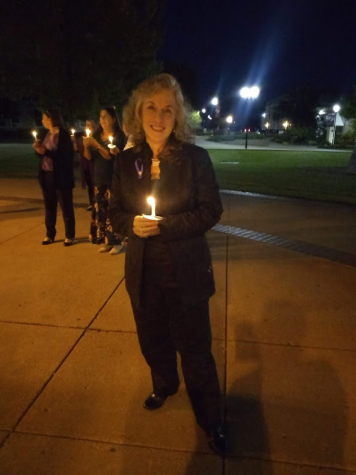 When asked what she would like to express with those who may be experiencing a harmful situation and are in need of assistance, but fear the repercussions of coming forward, Director of HOPE in Fairmont Ms. Michelle McCord shared "They don't have to do it alone. There's hope out there and whatever situation they're in, they don't deserve it. They deserve to be able to live without violence and abuse in their lives and there's help to do that."
HOPE works to destigmatize domestic abuse and give aid to victims who otherwise have nowhere to turn in the communities of Marion, Lewis, Doddridge, Gilmer and Harrison, WV. The agency is a part of the West Virginia Foundation for Rape Information and Services (FRIS) organization and works alongside many outreach branches throughout the state of West Virginia. HOPE also offers a multitude of services to those in need such as providing clothing, food, shelter and counseling services. All of HOPE, Inc.'s services are confidential, and their website can be reached by following https://www.fris.org/home.html. The site includes the phone numbers for each branch location, but the number for the Fairmont location is 304-367-1100. For immediate assistance, please call the National Sexual Assault Hotline at 1-800-656-4673 (HOPE).