Fairmont State Theater Students Perform Self-Produced Play
On Friday, September 20, 2109 Fairmont State University's theater students performed their self-produced play, "Too Much Light Makes the Baby Go Blind." Friday night marked the first of three performances the actors put on that weekend. Theater arts professor Francine Kirk describes it as a "neo-futurist play." The play itself was not one play, but 30 different plays condensed into 60 minutes.
Unlike most traditional plays, "Too Much Light Makes the Baby Go Blind" relied heavily on audience participation. Upon entering Wallman Hall's room 314, audience members were asked their name and given a name tag. However, the name tag did not contain their name, but a false nickname given to audience members in jest. For example, my name tag said "Cathy" despite my name being Keely.
The play began with cast members ordering a pizza, not just acting like they were but actually ordering a pizza from a local pizza place. The pizza arrived in the middle of one of the acts, and the play was momentarily paused to announce the order had arrived. After the play concluded, audience members were invited to help themselves to a slice, although it was unlikely there was enough pizza for the large audience in attendance.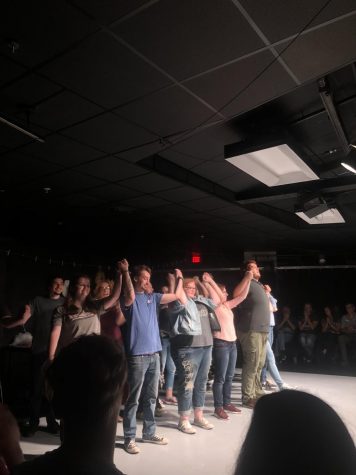 To help facilitate audience participation, numbered papers, labeled one through thirty, were located behind the performers. Audience members were asked to yell out a number. Whichever number could be heard the loudest was chosen, and on the back of the chosen paper was the name of the play they were to perform. The plays were more like skits, with each skit having a different theme and a humorous plot. For example, number 9 was titled, German 101, which consisted of a pun using the similar sounding number 9 and German word for no, "nein".
Another skit was one titled, Blind Date, which consisted of one of the cast members going on a literal blindfolded date with one of the audience members. The play did include some sexual themes and vulgar language so it was not a play that would have been appropriate for younger audiences, but overall the play was interactive, unique, and filled with humor. It was a different experience for playgoers and one that certainly won't be forgotten by anyone in the audience.