Damsels in Defense Workshop
Keely Stiles, Staff Reporter
September 17, 2019
On Tuesday, September 3rd, Fairmont State University's Black Student Union held a Damsels in Defense workshop in the Ruth Ann Musik Library's Multimedia A Room. The workshop is designed to help women protect themselves from potential attackers and to become situationally aware.
The workshop was hosted by Damsels in Defense representative Sharon Zeck. At the beginning of the workshop, Zeck asked attendees take a quiz designed to measure how situationally aware they are. Those that scored below a 70% were considered less-than aware.
During the workshop, Zeck showcased different items for protection that Damsels in Defense offers. The items ranged from pepper spray to alarms, stun guns, striking objects, and even a mechanism to cut seatbelts or break car windows.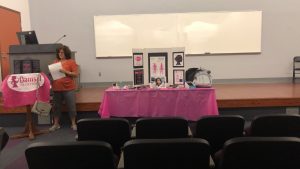 Damsels in Defense advocates for women's safety because sexual assault continues to plague our society. According to the National Sexual Violence Resource Center, one in five women will be sexually assaulted at some point in their lives, and 20-25% of women in college are victims of sexual assault during their time in college. Zeck reaffirmed these statistics by stating "College students are four times more likely to be assaulted than the general population." The sole purpose of this workshop was to help those attending not become a part of that statistic.
In addition to using the items showcased, Zeck taught lessons on deterring potential attackers. Zeck recommends that we look whomever is attacking us in the eye, and tell them to "back off," using a stern tone. Zeck reminds us that we shouldn't fully turn our backs to someone that is a potential threat because it opens us up to being attacked from behind. Ultimately, the purpose of the workshop is for attendees to make a plan in case of an attack and be aware of their surroundings.
For more information on Sharon Zeck's Damsels in Defense mission, you can visit her website at http://mydamselpro.net/SHARONHESSE
About the Contributor
Keely Stiles, Staff Reporter
Keely Stiles has been a staff writer for The Columns since 2019. She is currently a sophomore at Fairmont State University studying Multimedia Communication,...