Allies for Recovery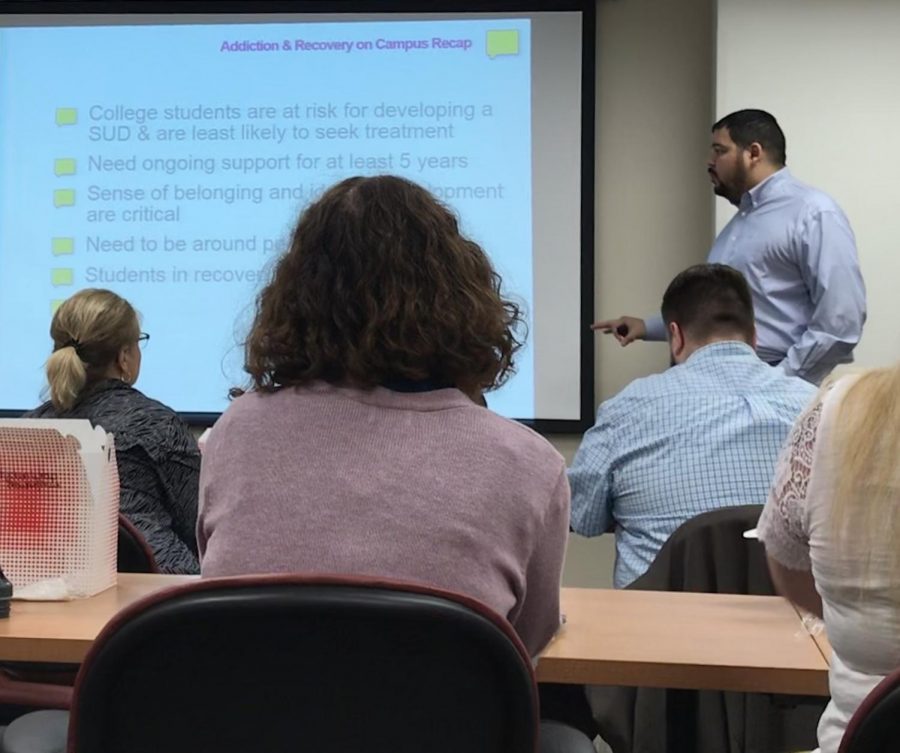 Anna Cronin, Staff Reporter
April 16, 2019
Students and faculty were invited to join the collegiate recovery community on Tuesday April 9, 2019. The "Recovery Is Spoken Here" training, conducted by guest speaker and recovering ally Ahmed Hosni, encouraged students and faculty to become allies by objectively evaluating substance use with respect and compassion.
According to the National Alliance on Mental Illness (NAMI), a substance use disorder is "A maladaptive pattern of substance use leading to clinically significant impairment". Given that it is socially acceptable for college students to attend parties in which many indulge in potentially addictive substances, our demographic is at high risk for developing a substance use disorder.
"Recovery is possible, and it happens every day." –Ahmed Hosn, 2019
According to Andrea Pammer, Fairmont State University's Director of Counseling and Disability Services, "If a student is experiencing academic, behavioral, interpersonal or health related consequences of substance use and has ever had withdrawal symptoms, sacrificed activities to use, failed to fulfill their role, and has cravings or compulsions to use, the student likely has crossed the line from use to a disorder and may need some assistance."
Fortunately for those who could not attend the training, anyone can be an ally and join the movement toward a recovery friendly environment. To be an ally is to recognize the characteristics of a substance use disorder, use person first language to eradicate the negative stigmas associated with substance use and encourage the individual to seek health services.
On-campus health services can be reached by visiting room 316 in the Turley Center or by utilizing these emails;
Andrea Pammer and Official 'Recovery' Email

For more information on NAMI, please visit their website or view the Disorder and Statistical Manual (DSM-5):
National Alliance on Mental Illness
Diagnostic and Statistical Manual

About the Contributor
Anna Cronin, Executive Editor
As a sophomore at Fairmont State University, Anna Cronin is the executive editor of The Columns and a psychology major.