Falcons W/PRIDE Halloween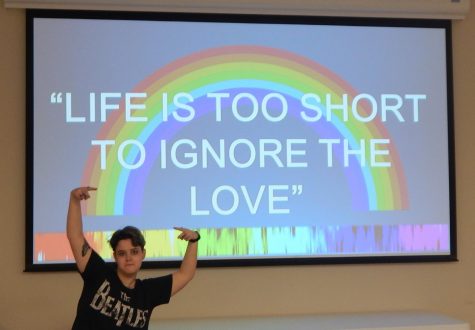 Falcons W/PRIDE schedules one meeting per month to discuss upcoming events, but Director Lars Lehmann and the Assistant Director Zettie Bowling scheduled a second meeting on October 29, 2019 to announce more information. During this meeting Panel members were announced, past events were addressed, and movies were voted on.
It was discussed that in the month of October, the bell had been painted multiple times for National Coming Out Day and pictures of the painted bell were shared with attendees.
At the meeting, attendees were reminded that the Halloween movie night would be on October 31, 2019 from 7 p.m.-11 p.m. in the MMB room of the library and that movie voting would take place. The movie options included Misery, Scary Movie 2, BeetleJuice, Goosebumps 2, Happy Death Day, Caroline, Jigsaw, Scream, Scream 2, and the Rocky Horror Picture Show. After the votes had been counted, the top three movies were announced as BeetleJuice, Rocky Horror Picture Show, and Coraline.
It was also announced that an invitation to Falcons W/PRIDE was received from WV Wesleyan's PRISM organization to attend a conference that they will be holding from 9 a.m.-5 p.m.
If you are interested in attending future Falcons W/PRIDE meetings, events or would like more information about the student organization, search Falcons w/PRIDE on GroupMe, @falconswp on the Remind App, or email the Director at [email protected] to join the official email list for the organization.
"Life Is Too Short to Ignore the Love"