Fairmont State Football First Half of Season Predictions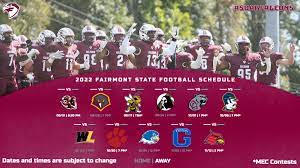 With the first Fairmont State football game under wraps and the season beginning with a loss, I have strong feelings that we will be able to flip the season around compared to what we have encountered in our season opener and the results from last season. With us having many returning players and most of our season leaders from this previous season being freshmen, there are high hopes for a turnaround season. My predictions for the first half of the football season are:
28-21 Fairmont State versus Charleston
(1-1)
In the second game of the season, we kick off against Charleston. The last time we met with this team they were able to put up 27 points against us while putting up numbers. They had 320 total offensive yards, 155 passing yards, and 165 rushing yards while being able to pass the first down line 17 times. We had a weak counter to their offense with our own numbers being 153 total yards, 117 passing yards, and 36 rushing yards while only getting 8 first downs. The main factor in this game was that they were able to step up and perform on each side of the ball. With the season just unfolding and players trying to return to mid-season form, I see the possibility of defeating Charleston in this revenge game. With our quarterback, running back, and defenders on the other side of the ball coming into their second season with the team they will be improved and more eased with the play of the game. I have Fairmont State coming out of this game with a win of 28-21. Despite it only being a one-possession win, it's a huge improvement from where the team was last year.
24-10 Fairmont State versus West Virginia State
(2-1)
In our last matchup with West Virginia State, we came up on the other end by only one possession. We had an easier time getting around the field with improved numbers of 351 total yards, 281 passing yards, and 70 rushing yards. Despite WVS putting up better offensive numbers on the rushing side of the game but not on the passing side. They were able to rally themselves to a 30-23 victory over us. I have fun expectations of another revenge game here and us taking another needed win to advance us to a 2-1 start to the season. I see the final score being 24-10 in this one. The hopes of our defense locking down their running game this time around along with the continuation of them stopping them in the passing game. Our offensive has more experience and can surpass the WVS team this time around.
38-28 Fairmont State versus UNC Pembroke
(3-1)
Last time we played UNC Pembroke we came out on top and were able to break our first win of the 2021-2022 season. We had significantly better numbers on both sides of the ball and were able to hold them down to a zero-yard rushing game. UNC Pembroke was moving down the ball swiftly and scoring by the air attack and keeping up with us throughout the game. But I see the Falcons ending that passing trend and continuing to end the rushing game in this one early. I have us having another victory over UNC Pembroke with the score being 38-28. A two-possession game and the Falcons still holding down their ends.
17-14 Fairmont State versus Concord
(3-2)
Another matchup that we had a winning outcome in the previous season is underway with the kickoff of Fairmont State against Concord. This game had similar stats for both teams on both ends of the ball with us coming out on top with a 31-27 victory. The only area of weakness that truly stood out was that Concord was able to pass for 492 yards against our defense. With the trend of the expectations of our defense having more experience and more into the play of the game, I see this number dropping. But not a significant amount. Despite us being on a two-game win streak and us having a previous win against this team, I anticipate an underdog loss to Concord in this one. I see them rallying at an end-game situation to get the lead and the win to an end game situation. I am predicting that the end score of this game being 17-14 with Concord coming out on top of this one.
45-7 Fairmont State versus Alderson Broaddus
(4-2)
A dominant performance from the Falcons helped us torch Alderson Broaddus in last year's matchup. The game ended with a 44-10 win over AB. I have nothing else to include in this prediction despite a score change and more dominance. I see Fairmont State taking this one home and winning 45-7.
With more experience and more willpower this season. I have high hopes for a winning record by the end of the season. With my prediction having us with only two losses through the mid-way point, I have faith for a playoff season for the Falcons.